Transparency helps you assess the true value of your voluntary benefits plan. Learn how to become a stronger fiduciary for your employees' benefits with BeneRe.
Key Takeaways
For traditional accident coverage, a company was getting a 44% financial loss ratio, but hidden within those results was the fact that commissions were higher than the claims ratio

The carrier ended up keeping 56%, which doesn't benefit employees

With BeneRe, commissions and premiums go down, and anything left over goes back to employee benefits programs, not the industry

BeneRe gives you the transparency you need to make better decisions for employee support
Voluntary benefits coverage gives employees additional support when they face an accident, injury, or critical illness diagnosis. But, the way the voluntary benefits market has operated for decades makes it hard for employers to know the true value of what they and their employees are paying for. There is a significant lack of transparency and low claims, so anything leftover is going back into the insurance industry.
Transparency allows you to be a better fiduciary for your employees and weigh all the information when deciding which plans to put in front of them. BeneRe is a solution that addresses the transparency and low claims problems head-on.
How? Let's walk through an example of typical accident coverage numbers for an employer and compare them to BeneRe's results.
What a typical voluntary benefits plan looks like
We pulled data about voluntary benefits coverage at a company that went with the traditional model. Let's focus solely on accident coverage.
Over seven years, employees at this company paid over $3 million for accident coverage and got $560,000 in paid claims value out of that. The carrier reported incurred losses of a little over $1 million, making the financial loss ratio 44%. That number doesn't sound that bad at first glance.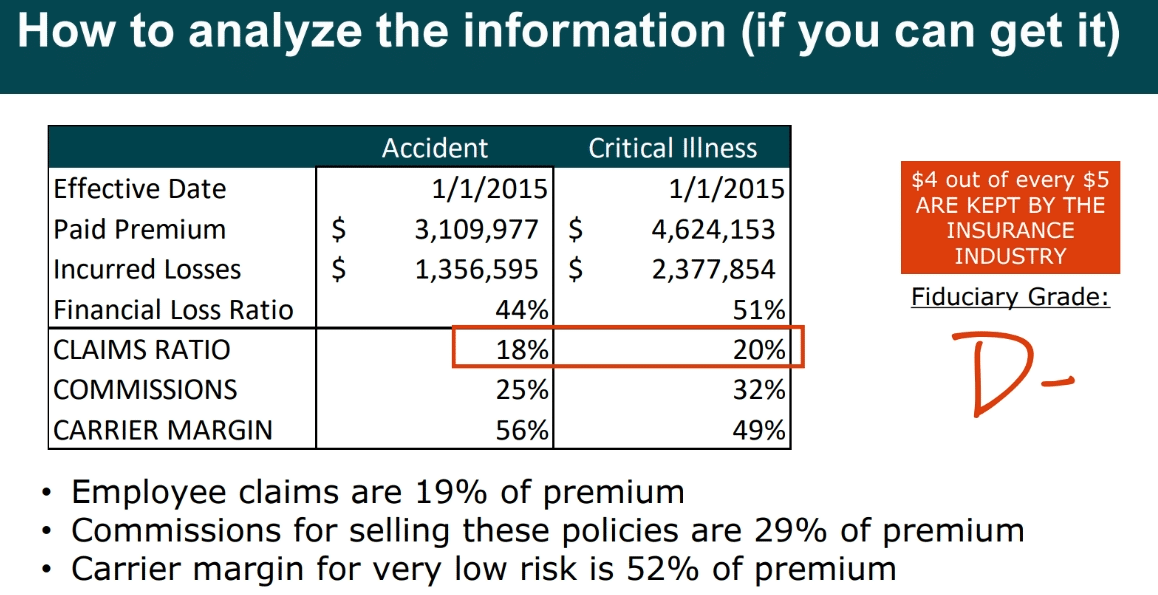 However, let's break out the paid claims and the incurred losses. The claims ratio is 18% and the commissions end up being 25%. Commissions are more than the claims being made, so it's essentially costing more to sell this product to employees than the value they're actually getting out of the product.
The commissions go to the brokers, and the carriers end up keeping 56%. So, the carrier margin for very low risk is over half of the premium.
We give this a fiduciary grade of D-. In this scenario, no one is looking out for the employees and the value they're getting.
As an employer, you need to see this kind of breakdown. You need to see the paid premiums, the paid claims, incurred losses, claims ratio, and commissions rate.
Why BeneRe is the solution for value and transparency
BeneRe's group captive model is the solution to this issue. We transparently disclose where every dollar goes every quarter. We have nothing to hide in our model.
With our program, commissions go down to 10% from 25%, and the claims ratio targets 50%. But, regardless of where it actually hits, we give you the difference back in the form of dividends. The employees get 60 cents on the dollar directly and indirectly from paid claims and dividends, which is triple what you see in traditional plans. This program gets a fiduciary grade of A.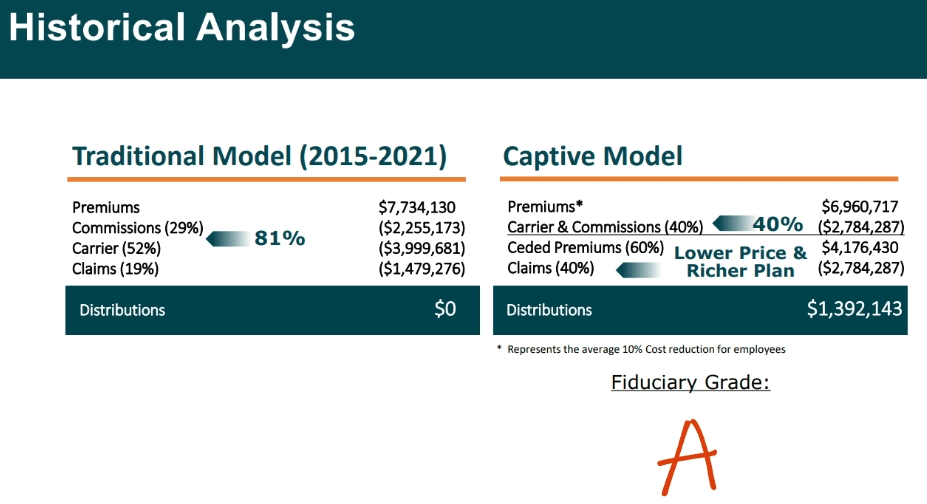 Let's break down exactly how we're transparent. BeneRe employers get a report every quarter that includes:
The amount of premiums paid in this quarter

The amount the carrier kept

The amount that went to premium taxes

Broker commissions

The cost of running the captive through BeneRe and other services
These components all equal 40%, not 80% as with other models. The net of those claims then comes back to you to help employees with additional wellness benefits, helping you improve the benefits for your people.
BeneRe's model redistributes the value that's historically gone under the radar and back to the industry so you can use them for better employee benefits.
This is a no-brainer for employers. There's no downside risk to employers or employees. It's a fully insured program for employees and is no different than other fully insured programs, where the carrier has to pay all those claims. We then reinsure the risk, and through the shared pool of hundreds of thousands of employees, the results are very stable and predictable. BeneRe takes the downside risk and gives all the upside back to employers and their employees.
With our program, employees typically see 10% in cost savings and enhanced protection for accident, critical illness, and hospital indemnity coverage through VOYA. It's a better plan at a better price.
This is why we have 100% retention with our clients thus far. Once an employer sees the substantial benefits for their employees and for the business, they don't want to leave.
When you're ready to make a change to increase the value of the voluntary benefits you offer employees, we're ready to talk. Reach out to the BeneRe team for a complimentary financial analysis of in-force programs today.